Amazing CTO Newsletter
🚀 Issue 5.1
by Stephan Schmidt
Happy Friday,
this weeks insighs include
👉 Three questions to a CTO about the future of development
AI 😃 (!)
More impacts of remote work on software development
Book recommendation 📚: Idea Flow by Janelle Arty Starr ☮️
Good reading, nice weekend ❤️ and until next week,
Stephan
👉 Interview with Sebastian Galonska
I've asked Sebastian Galonska, former CTO & co-founder Kontist and fellow CTO coach some questions about the direction of software development
How do we develop Software in 30 years?
By thinking about acceptance criteria.
How will software processes change with remote?
Aren't we there yet? I have seen the first consequences already. Writing down every step of the decision making process has become a necessity. Pair coding over screen sharing is happening as we speak. On the other hand, I observe the desperate need for more autonomy, alignment and ownership. Especially among teams who did not work remotely before. Therefore, frequent in-person company off-sites will become more crucial to company culture. They will need to lose the 'workation' label, though.
What is your favorite programming language and why?
I'm picking (Node)JS because of its high availability for beginners, despite not being a beginner friendly language at all. In addition, people have created an abundance of resources to facilitate its learning, plus the language is actively maintained. The trend will shift towards TypeScript once the world has realized that https://deno.land/ is out of beta. Still can't wrap my head around why asynchronicity is not so much of an issue and people seem to either ignore or embrace it.
What do you think of visual programming, no/zero-code
I think it is amazing, as it, once again, makes programming accessible to more creative minds. I also believe that the challenge about programming in general does not lie in mastering a specific language, but rather in distilling real world problems into a rule based system.
and AI assisted development?
I will start thinking about it when AI proves itself by writing poetry that will make me cry,
Interesting Articles
Andrew Ng: Unbiggen AI
MUST READ.
https://spectrum.ieee.org/andrew-ng-data-centric-ai
The Rise of the Triple Peak Day
I ask every CTO about remote work. We're only seeing the tip of the iceberg. Like looking at websites in 1995. Microsoft found three working peaks, one at 11am, one at 3pm and a third at 10pm (!). It's crucial for CTOs to understand the remote impact on their work, so read this one
https://www.microsoft.com/en-us/worklab/triple-peak-day
Advantages of monorepos
There is on and off talk about monorepos. My view on software development practices is we do one thing (microservices), then do another to counter the downsides (monorepo). Like a pendulum. Nevertheless, this article goes into more detail especially about the whys (yeah!) of monorepos. If you don't have one, read the article.
I Thought I Would Have Accomplished a Lot More Today and Also by the Time I Was Thirty-Five
One common topic I have in my coachings, what do I want to achieve? Why? And what creates more joy? There is always the pressure for more success. I did enjoy the text. Relax.
https://www.newyorker.com/humor/daily-shouts/i-thought-i-would-have-accomplished-a-lot-more-today-and-also-by-the-time-i-was-thirty-five
From Belonging to Burnout, Five Years at Airbnb
The article might be controversial, but has good insights into a large company that was once a startup, touching culture, engineering and vision.
https://news.techworkerscoalition.org/2022/04/05/issue-5/
Your Competitor Wrote The RFP You're Bidding On
Good insight into B2B customer driven development - or better, competitor driven development. Some CTOs are surprised on how B2B works and why they are pressured into delivering features someone external demands. It's worse, it's your competitor.
https://www.sofuckingagile.com/blog/your-competitor-wrote-the-rfp-you-are-bidding-on
Stories of reaching Staff-plus engineering roles
"Folks who have shared their stories of reaching Staff-plus engineer roles"
Book Recommendation
A must-read book for every CTO is "Idea Flow" from by Janelle Arty Starr. The idea is to measure the pain of software development. And to understand the pain of software development the author develops the concept of software development as "idea flow". Ideas flow from the developer into the code, and by reading the code, ideas flow back into the developer. The better this cycle works, the less pain there is in software development. I found this idea enlightening, and it changed some of my conceptions about software development. Therefor I consider this a must-read book.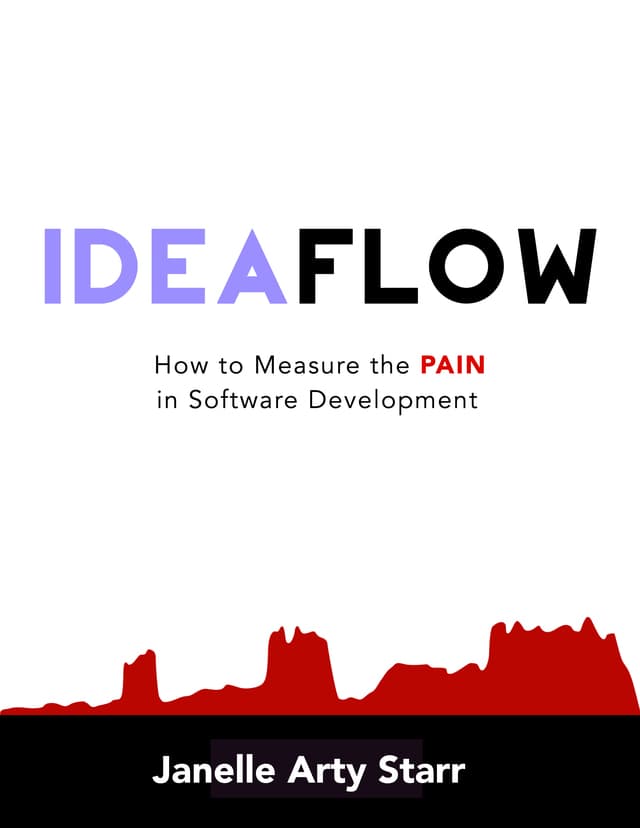 Know someone who could benefit from this?
Please forward the newsletter ❤️
Received this newsletter from someone? 📩 Just Join!