Amazing CTO Newsletter
🚀
by Stephan Schmidt
time— title: "44.2" preheader: "Insights and tidbits just for CTOs" mailtitle: "On my desk: new CTO book for CTOs and tech managers"
Happy 🌞 Sunday,
this week a book fell on my desk, "CTO Excellence in 100 Days" https://www.ctoexcellence.com/. Heureka! You know my view, our industry is not professional enough and the CTOs I meet do not act professional enough (stand your ground!) or executive enough. So I was delighted to get a book for CTOs - we need to have more common ground as CTOs. But what I love about the book, there it's not about scaling technology. Or organizations. It's not about the things that techies coming from a developer career think are important. It's about the really important things, like "Understand What Is Truly Important to Stakeholders" or what I also mentor "Maintain Trusting Relationships". Grab a copy!
This week insights
🦹 CTO Checklist
🤖 What I Learned At Stripe
💻 Things they didn't teach you about Software Engineering
Good reading, have a nice Sunday ❤️ and a great week,
Stephan
CTO-Coach and CTO-veteran
If you only read one thing
CTO Checklist
Yes, Medium. But we do have not enough CTO knowledge, so give it a try. Many good points, just take three of them and implement them. I suggest "Market your company", "Build momentum — make sure there is a constant stream of delivery" and "Give teams a budget where possible — push decision making down"
https://medium.com/@tom-neal/cto-checklist-1a2ef3d6502
Stories I've enjoyed this week
What I Learned At Stripe
"Despite it being a very short stint in my career, what I learned at Stripe was nothing like I had experienced in more than 20 years in the industry" Many of my coachees struggle with developers taking responsibility. Many make the mistake of making a team responsible (you need A++ players for that), Stripe uses DRI aka. Directly Responsible Individual. Highly recommended.
https://steinkamp.us/post/2022/11/10/what-i-learned-at-stripe.html
The lone developer problem
You're the CTO, but have been the first coder in the startup? Then this is the article for you: "I've observed that code written by a single developer is usually hard for others to work with" There will be a drop in productivity when others try to understand your code, there will be a drop in productivity because developers need to be onboarded, there will be a drop in productivity because going from 1 developer to 2 is 100% increase, from 2 to 3 only 50% and from 3 to 4 only a 33% increase in productivity. And all these happen at the same time and confuse the business and the CEO. Pressure is increased, bad code gets written and the CTO is on a road of pain.
https://evanhahn.com/the-lone-developer-problem/
How Duolingo reignited user growth
Gamification. And as a user, Duolingo is the one company that nails emails. They send encouraging emails just at the right time. Many companies seem to send me emails randomly. In an earlier newsletter, I shared the practice of sending emails when the user is usually logged in (and not hitting them at night). This one is a good read with good ideas.
https://www.lennysnewsletter.com/p/how-duolingo-reignited-user-growth
Firecracker internals: a deep dive inside the technology powering AWS Lambda
I think everyone knows Docker. Not enough people know Firecracker. For quite some time I try to find a project to try out. Perhaps you are luckier than me.
https://www.talhoffman.com/2021/07/18/firecracker-internals/
LastPass says DevOps engineer's hacked computer led to security breach in 2022
Whenever I talk to CTOs, they seem to neglect security. I understand the business pressure and if you don't have money and don't have users and don't have traction, it's not the right time to think about security. But there is a point where it becomes necessary, and nearly everyone misses this point. And then a company that stores passwords for users lets security slip, so CTO, not everything is lost. But take a look.
https://9to5mac.com/2023/02/27/lastpass-devops-engineers-hacked/
Things they didn't teach you about Software Engineering
"Domain knowledge is more important than your coding skills" This is the reason as a manager I brought down a large site with my coding skills. And in another event pressured a junior into making a mistake that costed the company tens of thousands of euros.
https://vadimkravcenko.com/shorts/things-they-didnt-teach-you/
ARM vs Intel on Amazon's cloud: A URL Parsing Benchmark
I thought that one interesting, x86 vs. ARM performance for servers. A limited benchmark, but every data point is to be welcomed.
https://lemire.me/blog/2023/03/01/arm-vs-intel-on-amazons-cloud/
Work Less, Get More Done: Analytics For Maximizing Productivity
When the CEO kicks you next time, "Working Longer Hours Is Not A Competitively Defensible Advantage"
https://www.kalzumeus.com/2009/10/04/work-smarter-not-harder/
From Go on EC2 to Fly.io: +fun, −$9/mo
If I'd start a startup with some money, I'd straight got to fly. So should you.
https://benhoyt.com/writings/flyio/
The Power of "Yes, if": Iterating on our RFC Process
If you have implemented architectural decision records, perhaps the next level is writing RFCs. "RFCs turn ideas into words. They force clarity: it's hard to write an RFC unless you're sure about what problem"
https://engineering.squarespace.com/blog/2019/the-power-of-yes-if
How to Protect Your Career From a ChatGPT Future
It's about different jobs, one of them being developers "The only way out for developers is through expanding their vision beyond that of the tools made available to them. Why does something need to be coded? What does the end customer expect?" What about CTOs?
https://www.wearedevelopers.com/magazine/how-to-protect-your-career-from-chatgpt
Let It Fail
There was Joel on Software. Then we forgot everything. No, we relearn the basics in another cycle on rewrites (Joel from 2000, this one 23 years later, oh my do we have a short memory span) "Quickly I realized the business and engineering teams were on a collision course". There are some good points in it though, the main one being "Let it fail" - I would like to see the business impact. The positive note from business getting the rewrite sounds to me like the classical overpromise and fail. But I wish them the best.
https://www.maxcountryman.com/articles/let-it-fail
How I Broke Into a Bank Account With an AI-Generated Voice
Banks. I hope you're not one of them.
https://www.vice.com/en/article/dy7axa/how-i-broke-into-a-bank-account-with-an-ai-generated-voice
📚 Book of the week
This week's book is - you've guessed it - "CTO Excellence in 100 Days" https://www.ctoexcellence.com/. As mentioned above, I welcome every CTO, and I urge every CTO to read all those books, there are not enough of them. And when there is one like this, focusing on the important CTO topics that CTOs with a developer background struggle with - go grab a copy.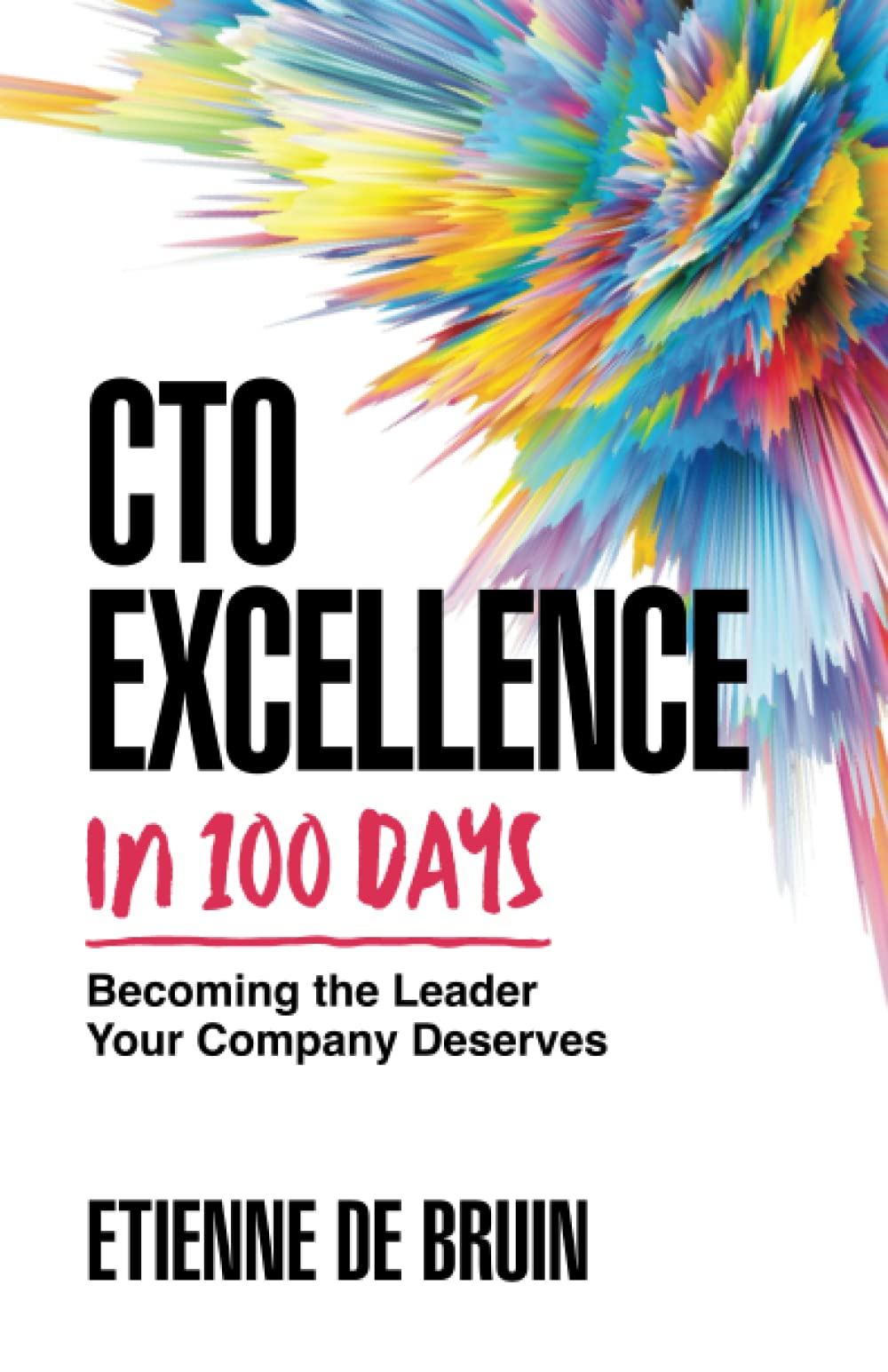 Know someone who could benefit from this?
Please forward the newsletter ❤️
Received this newsletter from someone? 📩 Just Join!