https://fs.blog/second-order-thinking/
How to find your blind spots
Some great insights to improve your skills, with a developer's perspective of "debugging". "reaching the next level in a skill usually means adding one or two new minigames to your arsenal […] In contrast, I find that most people think that the path to improvement lies solely in building upon minigames they know." Intriguing.
https://www.zeptonaut.com/posts/find-your-blind-spots/
Innovating with purpose: How passion activities in the workplace lead to revealing solutions
I always love blog posts that share experiences instead of blog posts that share unproven ideas. Some great ideas about developer happiness, productivity, innovation, and a lever for employer branding.
https://medium.com/gumgum-tech/innovating-with-purpose-how-passion-activities-in-the-workplace-lead-to-revealing-solutions-624287b89bd2
You should take more screenshots
This is about personal computer use and storing history in screenshots. But I found it tremendously useful as a CTO to create screenshots from the website every month automatically with a tool. It's very useful to go back a year and see how the website looked back then. Either in feature discussions or in learning what works and what doesn't. One of the easy practices you can start right now.
https://alexwlchan.net/2022/screenshots/
The Real Value of Middle Managers
"Middle managers, it turns out, make valuable contributions to the realization of radical change at a company—contributions that go largely unrecognized by most senior executives."
https://hbr.org/2021/06/the-real-value-of-middle-managers
In Praise of Middle Managers
Many of my coachees struggle because they don't have middle managers, aka team leads. There are no people they can discuss things with, there are no people they can delegate to, and there are no people as multipliers moving the department in a new direction. I do think middle managers are crucial, as does the author of the article "In my 20 years of being one and then researching them, however, I have developed a great respect for middle managers" with the idea of "It is time to reunite leadership and management in one concept and recognize middle managers as connecting leaders."
https://hbr.org/2001/09/in-praise-of-middle-managers
The Python Paradox
Python is the new Java. "And people don't learn Python because it will get them a job; they learn it because they genuinely like to program and aren't satisfied with the languages they already know." I guess Rust is the new Python. I am not a fan of Paul Graham on programming languages, especially his thoughts on Lisp, but I did experience this with Elixir.
http://www.paulgraham.com/pypar.html
Grokking Big Unfamiliar Codebases
You grow and you grow and you grow and then you have a large code base. Perhaps not as large as some that I've worked with, millions of LOC, but large. How do new developers deal with your large code base? I do think this is a good guide for them - and therefore useful for all of you. The faster they onboard, the faster they are productive and the sooner your other developers are back to developing.
https://www.jeremyong.com/game%20engines/2023/01/25/grokking-big-unfamiliar-codebases/
Slack is the opposite of organizational memory
I'm no fan of Slack, and this author is neither, for mostly the same reasons. But if you use Slack, it's a tool, define proper usage (and be aware that it reduces your developer's productivity and is unsuited for your managerial communication)
https://abe-winter.github.io/plea%27s/help/2018/02/11/slack.html
How Likely is Losing a Google Account?
A deeper look at why Google locks out people. And with many startups on Google Cloud, this seems very relevant. I'm sure the same is true for Amazon and AWS. You do have a backup plan if they lock you out, don't you?
https://www.jefftk.com/p/how-likely-is-losing-a-google-account
The Career-Changing Impact of Mentorship
As a coach, I agree. Get a mentor. And though my coaching is called coaching, it usually starts with mentoring - learning skills and insights.
https://www.isaca.org/resources/news-and-trends/newsletters/atisaca/2023/volume-4/the-career-changing-impact-of-mentorship
What we look for in a resume
Sometimes coachees ask me how to read a resume. While I personally only read it superficially because I don't believe in resumes if you want to read them, here are some good evaluation criteria like "Initiatives: A founder told me that his best hires are people who have previously founded a company, even if that company didn't work out. They know the drill." or "Persistence: Daily contribution to GitHub for one whole year." Perhaps I read them more in the future again :-)
https://huyenchip.com/2023/01/24/what-we-look-for-in-a-candidate.html
Macroeconomic Changes Have Made It Impossible for Me to Want to Pay You
:-) "Let's not mince words, though; the accountability for this decision rests with me. The consequences, on the other hand, rest with you [For those of you we are losing, I'd like to say thank you for all the work you have given us, but there's a good chance you've already been locked out of your computer before this email arrived.]" A lot of blog posts about layoffs read like this. When satire is hard to distinguish from reality.
https://www.mcsweeneys.net/articles/macroeconomic-changes-have-made-it-impossible-for-me-to-want-to-pay-you
Will MySpace ever lose its monopoly?
"This article is more than 16 years old" We see the large cooperations and think this time is different, this time they will stay. Amazon, Google, Facebook. It's not like MySpace. Or DEC. Or Commodore. This time cooperations are too large to fail. And then they are gone. Google fears losing to an AI bot and that its business could fail in a matter of years. Nothing is permanent. Not even Amazon. Or your startup.
https://www.theguardian.com/technology/2007/feb/08/business.comment
How To Prioritize Tasks ?
This is how I see people prioritize tasks. What they should do instead, is razor-focus on their vision and strategy. Prioritize your tasks from your strategy.
https://jimmyislive.dev/posts/how-to-prioritize/
The Adventure of Penelope the Porcupine and the Land of Whimsy
At least one AI story! Please! Here it is, a children's book built by AIs.
https://adventure-of-penelope.vercel.app/
The Tech-Layoff 'Contagion'
"The industry is having a midlife crisis. And that means once the crisis is over, a new era will begin."
https://www.theatlantic.com/newsletters/archive/2023/01/tech-layoff-contagion-economy/672826/
Setting the clock ahead to see what breaks
Have you done this? Why not? Does your software work? Does your QA stuff do this? Why not? Are they the right people?
https://rachelbythebay.com/w/2023/01/19/time/
Merger & Acquisition Failures
I've been bought several times, I have been part of buying companies and some of my coachees have been bought. Too often M&As fail. The article has some insights. Thinking about this quite recently with a coachee, it dawned on me: Top management wants the M&A and sees all the benefits. Middle management is already overworked and gets no benefits at all from the M&A - so while the executives drive it, middle management resists and rejects it. Why absorb managers from the acquisition? They only take away possible promotion spots. "Let it crash" as Erlang developers would say.
https://monkeynoodle.org/2018/08/12/merger-acquisition-failures/
Time your meetings with a fun twist!
I found that one funny.
Information About a Recent Mailchimp Security Incident
You are still copying millions of email addresses to Mailchimp? But you do know that you are responsible - GDPR or not - for checking with Mailchimp that they adhere to practices securing them. Not sure how you did check, did you visit? And how you did audit them, I guess you missed this one. Still, sending them email addresses?
https://mailchimp.com/january-2023-security-incident/
Organizational Charts
Hehe. Especially Oracle.
https://bonkersworld.net/organizational-charts
You don't have to engage with people on the Internet
"This is a lesson that was very hard for me to learn and I feel I should share this here for everyone to take a moment and consider. You don't have to engage with people on the internet. You don't need to hop into the comments section. You don't need to reply to that email."
https://xeiaso.net/blog/lesson-online-feedback
📚 Book of the week
The mentioned book, "Surfaces and Essences: Analogy as the Fuel and Fire of Thinking". Not as deep as the mentioned GED, but much easier to understand, and with more practical usage for software development. Worth a read (or listen).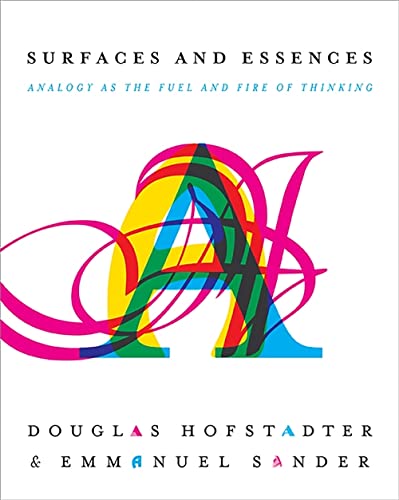 Know someone who could benefit from this?
Please forward the newsletter ❤️
Received this newsletter from someone? 📩 Just Join!