Amazing CTO Newsletter
🚀 Issue 17.1
by Stephan Schmidt
Happy Friday,
This week's insights include
A 📚 book recommendation: THE management book
🧙 Steve Jobs On Recruiting People
It's worse than you think 😱
The Ideal Praise-to-Criticism Ratio ⚖️
Good reading, nice weekend ❤️ and until next week,
Stephan
Tweet of the week
"As a tech lead or eng manager, you so frequently get request from above or from other teams to drop what you are doing and work on this thing they need, now.
During my 4 years at Uber after asking these questions, 9 out of 10 times it turned out it wasn't really urgent: […]"
It shows the power of being a PROFESSIONAL.
https://twitter.com/gergelyorosz/status/1542061516912037890
Stories I've encountered last week
Steve Jobs On Recruiting People
"Great people are self-managed." Every single sentence from Steve is gold in this 2:27 minutes.
https://www.youtube.com/watch?v=fj0hpsJvrko
The Best Managers Don't Fix, They Coach — Four Tools to Add to Your Toolkit
So true of course. Did I have to say that as a CTO coach? I see the "I fix it" in too many coachees and we work hard on "Help people fix it" for more CTO time. If you don't have a CTO coach, read the article, it helps you lower stress and gives you more time.
https://review.firstround.com/the-best-managers-dont-fix,-they-coach-four-tools-to-add-to-your-toolkit
The Ideal Praise-to-Criticism Ratio
Always knew that positive feedback is important. I often tell developers or managers "I like that" or "Great job" if I mean it. Byt who would have known that the best teams have a ratio of 5.6 to 1 for praise vs. criticism? (Read to learn what bad teams do). Science!
https://hbr.org/2013/03/the-ideal-praise-to-criticism
Metastability and Distributed Systems
First sentence "There's no more time-honored way to get things working again, from toasters to global-scale distributed systems, than turning them off and on again." Got me there.
https://brooker.co.za/blog/2021/05/24/metastable.html The Imperfectionist: It's worse than you think
"Here's a surprisingly useful question to ask yourself next time you're stumped by a problem, daunted by a challenge, or stuck in a creative rut: "What if this situation is even worse than I thought?" Yes, what? Excellent read for CTOs.
https://ckarchive.com/b/75u7h8hkk9g9e
Asked and answered: the results for the 2022 Developer survey are here!
Many many insights again.
https://stackoverflow.blog/2022/06/22/asked-and-answered-the-results-for-the-2022-developer-survey-are-here/
Introducing Mimic 3
I didn't know you could buy this off the shelves and as open source. I preach technical innovation being part of the CTO role, what would your startup build with this thing?
https://mycroft.ai/blog/introducing-mimic-3/
Top 8 Most Demanded Programming Languages in 2022
Sadly nothing new there. I would love a site comparing this, demand, with supply. You could choose your programming languages as CTO that with the highest supply and the lowest demand (guess which one is most in-demand and which one is … third)
https://www.devjobsscanner.com/blog/top-8-most-demanded-languages-in-2022/
We Sign Tomorrow? Inside A Tech Acquisition
If you want to watch a short documentary, here is one about an acquisition. As this is a mystery for many people - it was to me when being acquired, several times - this documentary is welcome. I want more like this.
https://www.paddle.com/we-sign-tomorrow-documentary
How Do Individual Contributors Get Stuck? A Primer
All my coaches have pressure to deliver. Some of them are asked by the CEO "Why are we so slow?". And often the perception of the CEO is wrong. CTOs nevertheless ask me, "What can I do for better development performance"? Here is one answer, help developers get unstuck faster.
https://www.elidedbranches.com/2017/01/how-do-individual-contributors-get.html
Yelp shuts some offices doubling down on remote; CEO calls hybrid "hell"
Are you stuck in "hybrid hell"? Does hybrid work for you? Or doesn't it? Send me a reply, I'm interested :-)
https://www.washingtonpost.com/technology/2022/06/22/yelp-shutters-offices/
📚 Book of the week
This week's book is "High Output Management" by Andrew Grove, the founder of Intel. I was recently reminded by a coachee about this book. He said it's the first book he grabs if he has a management problem. Right so. If there is a management book, it's this one. Everything in this book is important and relevant. The best quote for me about 1-on-1s: "Ninety minutes of your time can enhance the quality of your subordinate's work for two weeks, or for some eighty-plus hours, and also upgrade your understanding of what he's doing." If you read one management book, read this one.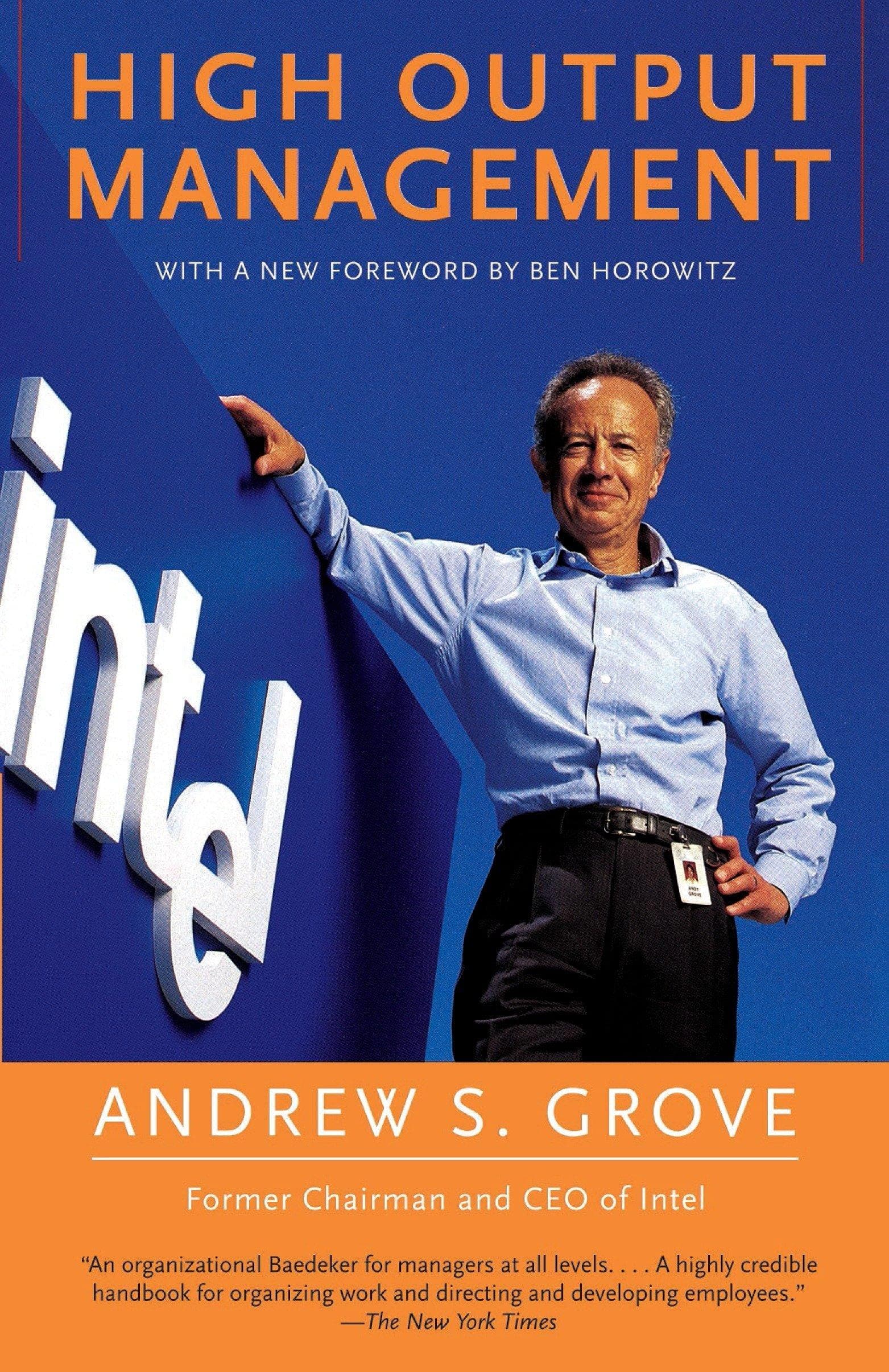 Know someone who could benefit from this?
Please forward the newsletter ❤️
Received this newsletter from someone? 📩 Just Join!